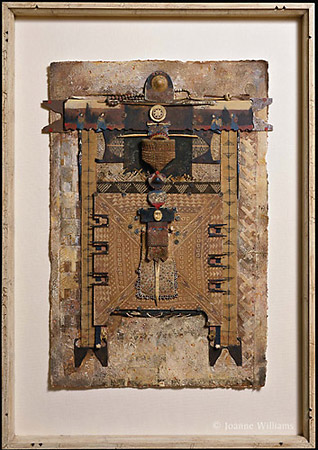 Artist Statement
The intention of my most recent art, "Fragments of Time" is about archeological ruins, ancient artifacts, discovered treasures, patterned inscriptions that trace our past and the new ones that live in the 'markings' of our present time.
My art is about "time in between " real time place, and memory.
Process: Collages and Paintings
In my collages, I assemble antique artifacts, found objects, textiles and my paintings, to create a new sort of talisman. Erasing geographical borders, these assemblages unify the diverse elements of many cultures while maintaining the unique presence of each. This balance is the challenge and inspiration for me.
In my paintings, my involved process to create the highly textured surfaces that I desire is one where 'spontaneous chaos" is balanced with focused "editing" in order to achieve strong compositions. I embellish my surfaces with metal leaf and paint with acrylic pigments. Sanding, scraping, pouring, glazing, impasto, scumbling, with mixed media materials explore the endless possibilities of painting.
Joanne Williams received her MFA Degree in Painting from George Washington University and Corcoran School of Art. Most recently she has been commissioned by Smilow Cancer Hospital, Yale University Hospital, New Haven Connecticut, The Seattle University School of Law, Seattle, Washington, The Thomas Jefferson School of Law, San Diego, California, and the Russo and Toner Law Firm, New York. Her art has been acquired by Yale University Park 500 Research Laboratory, New Haven, Connecticut, The Clarion Hotel, Houston, Texas, Monsanto Corporation, New York, The Matrix Corporation, Cleveland, Ohio, Coopers and Lybrand, New York to name a few and many private collections in the United States and Europe.
She currently has a painting in the Embassy of Kuwait and in the US Embassy in Yangon, Burma, as part of the Art in Embassy Program. Her painting "Mandalay" was recently part of an exhibition at The New Britain Museum of Art, New Britain, Ct .
Her work has been selected for the cover of Poetry East, "Wider than the Sky" Number 70. Spring 2011, De Paul University. It has been published in the books Crafting Personal Shrines and Collage Today, Sterling Publishing Co. New York.
Her art has been shown in many solo and group shows in numerous galleries. Currently, her art is in Thomas Henry Fine Art, Nantucket, Mass, Harbor Square Gallery, Rockland, Maine, Gallery