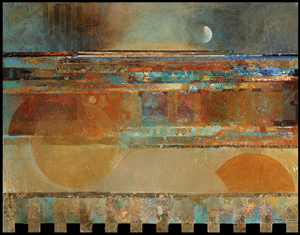 Review of Joanne's Work
04-07-2014
"It is not only because of their beauty that Joanne Williams' paintings are exhilarating. The lyrical presence of her graceful forms,suspended in time and space, the layered veils of surface and the uniqueness of materials all serve to create a mythical realm of delicately balanced serenity.
Williams works are about time,place, memory, magic, the past and the future. In the paintings, the abstract geometric shapes that stabilize the imagery, give way to the pliable, sinuous forms finding a lovely balance between control and intuition.
These paintings, their narratives suspended in distant cultural memories and associative symbols,ponder ideas beyond the visual,evoking a gentle,ephemeral sense of spiritual being.
The confident and adventurous manner in which she manipulates her materials, has a double appeal, reflecting not only the essence of a narrative of accumulated layers of history, but also the expressive and concrete act of art making."
Judy Birke
Art Critic and Consultant
New Haven Register